Disadvantage means…
Girls from families living in a tiny one-room hut, with no books, no help with homework no electricity let alone a computer or the internet. These girls don't have anything like the same advantages as those from affluent middle class families. Yet they will still be competing with those same more, advantaged students for a place at University or tertiary training.
Lotus Outreach Australia recognized the need to provide the 150 girls in our GATE program with the best possible chance of further education and training after school to secure good jobs, meaningful lives and economic opportunity. Universities mostly expect a certain level of English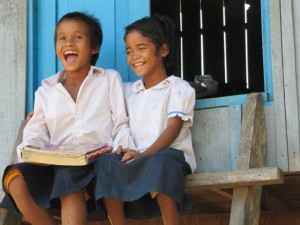 Language, as do many other post high school vocation opportunities. So in 2011, LOA introduced free daily English language classes for the girls at their local schools.
Outcomes
Progress has mostly been outstanding with some girls who had never heard English spoken before, now able to write about their lives, and read essays aloud in class. Others achieved over 90% in exams.
LOA is very grateful that initial funding for ELP has come from AusAID through AFAP.