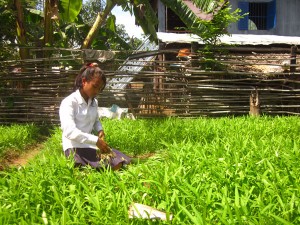 As a further incentive to keep young girls out of the work force and in school, Lotus Outreach Australia has increasingly focused on the sustainability needs of the girls' families and communities.
Research is being done on projects such as establishment of small community saving groups and small business training programs enabling families who have previously relied on irregular outside employment as labourers, to develop their own businesses and become more self sufficient.
Already we have seen women who have previously needed to stay home to care for children and do the chores, take advantage of new sources of fresh water to grow viable crops. This is allowing them to participate in income generating opportunities, giving them a stronger say within the family.
Supporting the girls' families to take on these new opportunities means that in turn we may expect the parents themselves to provide more support for their daughters, and begin to consider future education and vocational opportunities for their girls.
(Initial funding for this program has come from AusAID, through AFAP).