Recurring or one-off tax deductible donations can be made with a credit card, or by making recurring or one-off bank transfers to Lotus Outreach Australia's account at St George Bank BSB 112 879 Account 469773369. Cheques can be sent to the Treasurer at 3/16 Wonderland Ave, Tamarama, NSW 2026.
---
Sponsorship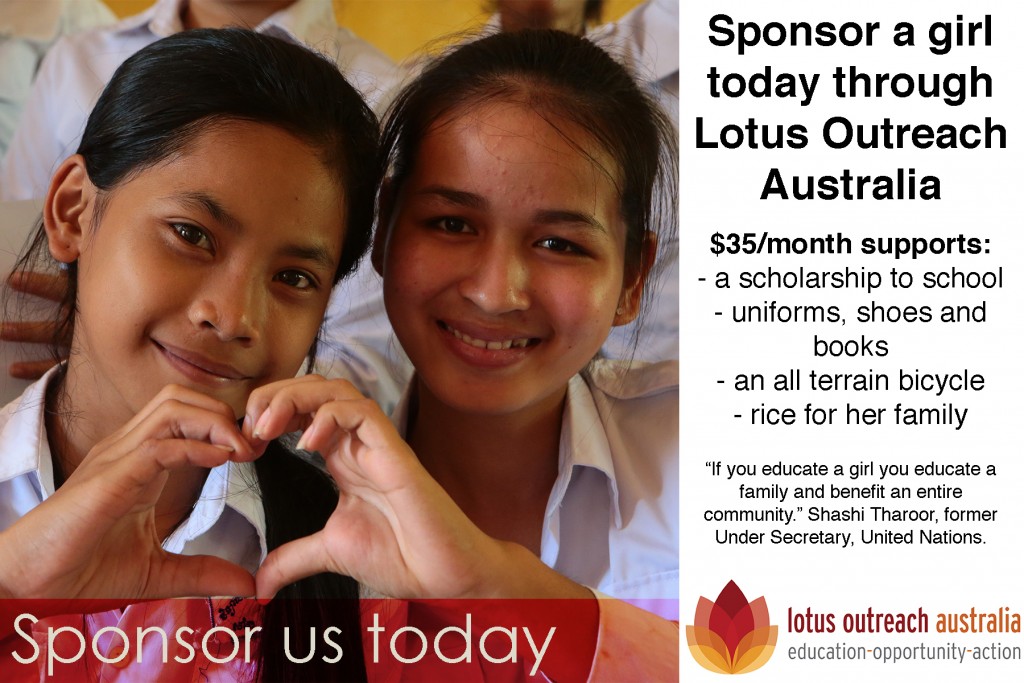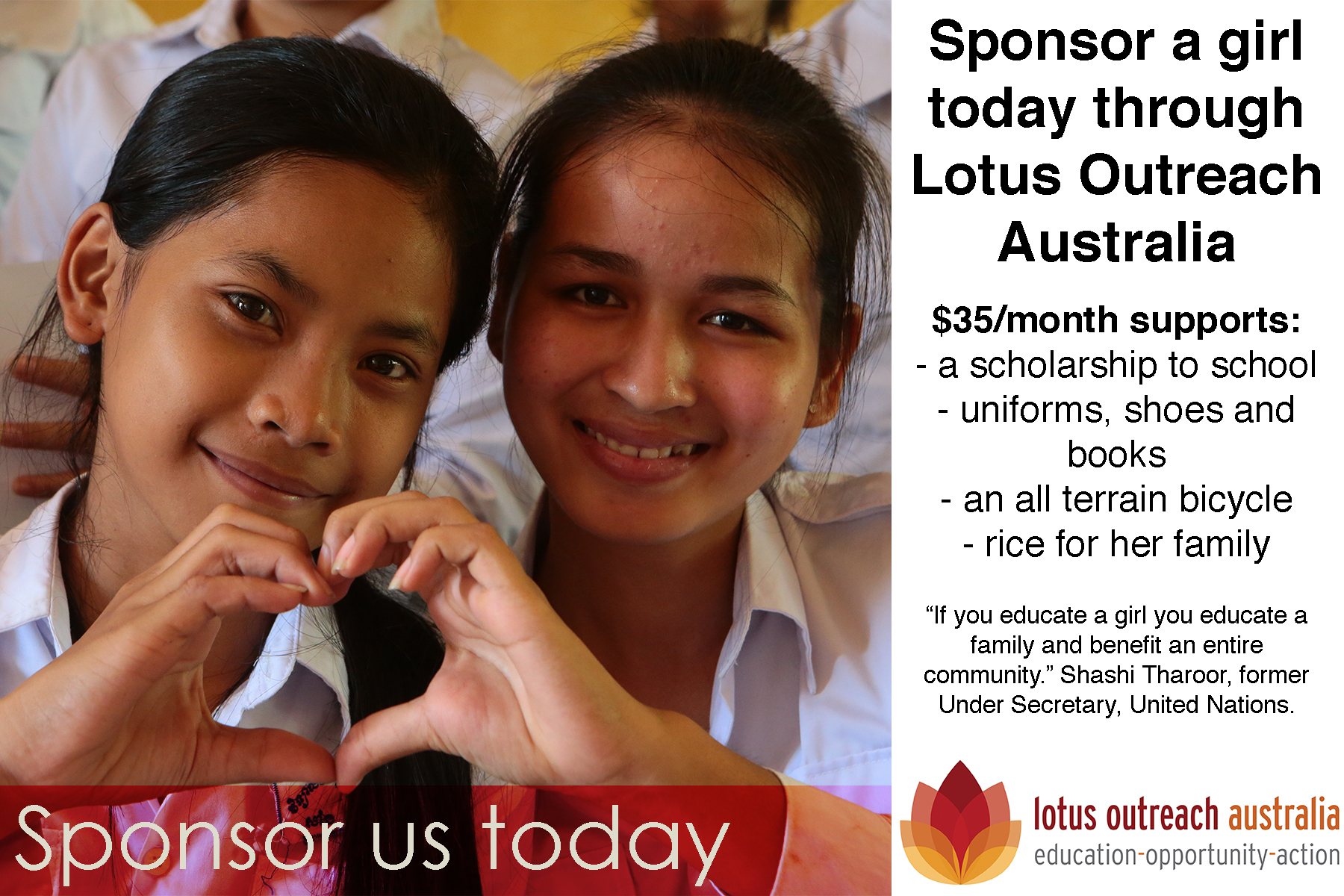 Please use the Recurring donation link to begin your sponsorship. Or make a one off donation here.
Your Support Makes All the Difference
A small sum of money goes a long way in Cambodia, where over a third of the population lives on less than $1 per day. Here are some examples of what your generosity can do to keep a girl in school, and change life for her, her family and her community:
(Examples in AUD)
$20 will supply a girl with a fresh, new school uniform, boosting her confidence so she can feel proud to go to school every day.
$30 will provide rice to a girl and her family for a month, meaning she doesn't need to work to support her family, and can focus on her studies. Rice is often the difference needed to prevent a girl from dropping out.
$50 will buy a new bike for a girl living far from her school. A bike will mean she doesn't have to travel in the dark to get to or from school, reducing her risk of kidnapping or abuse. It also means her parents will let her continue school once she reaches puberty, because they can be more confident in her safety.
$420 provides a full scholarship for a girl for a whole year, keeping her in school, safe and supported.
$500 will go towards supporting a year of vocational training for a graduate from our school scholarship program. She will receive professional training, accomodation, food and mentoring – and at the end, meaningful employment so she can contribute to alleviating poverty in her whole community.
$2100 will educate a girl for her entire secondary education.
Beautiful gift cards for any event or time of year
Our cards represent small, and not so small, things that can change a girl's life.
Giving a Lotus Outreach Australia card to friends and family lets them know about the work we do providing scholarships, bikes and food to vulnerable girls living in poverty in Cambodia.
Simply download the card you wish to use, choosing from a printable card or our e-cards which can be sent in an email or via social media to your friends and family.
---
Online Shopping
If you buy clothes or books or book holidays (and many other things) online, you can help us raise donations from generous retailers by joining Shopnate.
Just go to this link, and join up. Then any online shopping you do with any of the 700+ listed retailers will bring great benefit to Lotus Outreach girls at no cost to you. Many of our board members and followers have signed up, and its really working!
---
Thank you for your generosity