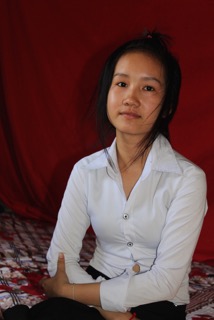 My family came from Kampong Cham province to Phnom Penh to find work and for the children to have an education. In the provinces children cannot study because the are not well paid and they need to find another job to increase their income.
(Her father died in an accident. Her mother earns USD130 per month working six days a week. USD50 goes to rent and water and what's left must cover the sister's education, food and medical expenses.)
To be in this GATE program has changed my family life. We don't have so many worries, my study has improved very much and I get good grades. Without LOA I would drop out of school and I would work in the garment factory
When I finish high school I will go to university to study medicine and become a nurse. I have family who are sick and I want to help other people too because I have seen many sick people. I also want to help my family by earning money and I want to be a good citizen and not do anything wrong to society.
Very big risks here are sex and human trafficking and illegal migration. Domestic violence is a problem too. My friend in the same scholarship program lives in a domestic violence situation.
Back to Stories from Cambodia