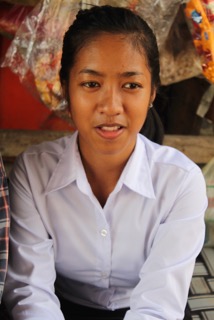 I could not study if I was not in the GATE program. I would not have materials, books, uniforms or money to pay for school. I would never go to university and I would not get a good job to support my family.
When I finish school I will go to university to study to become a tour guide for English and Chinese speaking visitors to Cambodia. I want to do this for my country, to show visitors the history and the culture of Cambodia.
I do not like to work in a garment factory, this is not a good job, but I work there in the school vacation to get money for food. That's why I tell girls to go to school because studying is the only way to get a good job and enough money to support the family and to develop our community.
I don't want my family and me to live in poor conditions any more and I want a better community with no addictions, no gambling, no thieving. I want all the girls and all the children to go to school. I don't want people to always see my community as poor.
I would like LOA to help another poor girl.
Back to Stories from Cambodia