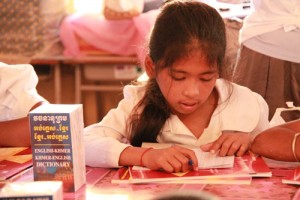 Girls in Lotus Outreach Australia's GATE program are now beginning to graduate high school. 2 girls graduated in 2010 and 3 in 2011 entering university, vocational training or the workplace. Over the next three years we have many, many more girls expected to graduate.
The GATEways Program has been developed and implemented by Lotus Outreach International to help Lotus high school graduates access university or vocational training, and find accommodation. GATEways, also seeks out vocational opportunities that suit the girls' needs. Girls in GATEways are encouraged to 'give back' by helping their communities during their holidays.
If our Lotus Outreach Australia's GATE graduates can't fund tertiary training or university themselves, they are less likely to secure meaningful, well paid jobs, settling instead for menial underpaid work, which sadly can lead to them becoming vulnerable to trafficking once more.
Lotus Outreach Australia is looking at ways to find extra funding to cover GATEways in the immediate future. Once these girls are in good well paid jobs, they may be in a position not only to be of help to their families, but perhaps to help the other little girls in their communities needing assistance to stay at school.